Is your attic wasting energy? The attic is one of the easiest parts of the home to ignore. Often considered to be "out of sight, out of mind" by South Central Pennsylvania homeowners, many people go years without even thinking about their attic. What often goes overlooked, however, is that the attic is one of the main sources of energy loss in the home, and the problem almost always stems from a lack of insulation.
Have your heating bills been through the roof? Is it difficult to maintain a comfortable home environment? Depending on the circumstances, problems such as these and more may be a result of a poorly insulated attic.
Understanding the stack effect
The "Stack effect" is a very important concept to understand for those who are unsure as to how the attic affects home energy efficiency. Essentially, the stack effect is a phenomenon that occurs when your attic isn't properly insulated or air sealed. Conditioned air in the basement will rise, make its way to the first floor and eventually reach the attic. If the attic isn't insulated properly, conditioned indoor air can escape. This creates an unwanted air exchange pattern that wastes money and energy.
The result? Your heating and cooling systems have to work much harder than they should in order to keep the air within the home properly conditioned, which means their lifespans are decreased and your energy bill is elevated. Many people don't even realize just how much energy they end up losing due to having a poorly-insulated attic. The results can be shocking once the problem is addressed.
The benefits of high-performance attic insulation
Surprisingly enough for many homeowners, the attic is actually one of the biggest sources of energy loss in most homes. Fixing the problem with new, high-performance insulation can benefit you and your family immensely:
Reduced energy bills

Enhanced home performance

More stable indoor temperatures

No ice dams in the wintertime

...and more!
At Energy Smart Home Improvement, we believe that the attic is one of the most important areas of the home to insulate. Our team of building science professionals can install high-performance cellulose insulation in your attic, regardless of its current state. We'll work with you to come up with the best possible solution for reducing energy loss, taking your budget into consideration the entire way through.
Because hot air rises, most heat loss in your home goes "Right through the roof"
The greatest opportunity to achieve a more comfortable home and lower energy bills is in your attic. Experts estimate you can save as much as 40% on your heating and cooling bills by sealing air leaks and providing proper insulation levels. In our area that requires attic insulation values between R-49 and R-60 based on the EPA's Energy Star recommendations. (This means 17" to 21" of loose fill fiberglass or 13" to 16" of cellulose insulation based on Building Performance Institute standards.)
Signs of inadequate attic insulation: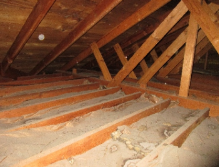 High heating or cooling bills
Ice dams in cold winter weather
Uneven temperatures in different rooms or different floors of the residence
Are all insulations equal if they have the same R value?
Testing performed at the National Laboratories at Oak Ridge and Brookhaven show that insulations with the same theoretical R values do not perform equally in real homes. Researchers discovered the effective R value of fiberglass insulation decreased significantly during cold weather and to a lesser extent in hot weather, while the effective R value of cellulose insulation remained constant. These studies found that fiberglass insulation loses as much as 30% of its insulation value in cold temperatures.
Energy Smart Home Improvement installs Nu Wool Premium Cellulose Insulation to ensure a comfortable, quiet home. This Class A fire rated insulation uses 86% recycled materials to protect our environment. Unlike other cellulose products, Nu Wool uses no ammonium sulfate which can produce a lingering ammonia smell and can be corrosive to metal. Nu Wool insulation is manufactured with a 100% borate-based fire retardant that is insect and mold resistant.
It's time to properly insulate your attic, and the team at energy smart home improvement is ready to help. Call us today to learn more or to schedule an appointment!