A basement, whether finished or not, can be a highly functional, useful space within a home. It can also have a major effect on energy efficiency and comfort throughout the rest of the home.
If you're looking to enhance energy efficiency in your home with insulation and air sealing upgrades, your basement is an important place to start.
Why Focus on Basement Insulation?
Though many people don't pay a great deal of attention to their basements, ignoring this part of the home is never a good idea. There are a number of reasons why a basement must be properly insulated. Proper basement insulation can:
Keep out excess moisture

Prevent mold and mildew growth

Keep pests and insects at bay

Improve overall indoor air quality

Boost home comfort, especially on the first floor
Combine today's high-performance insulation with effective air sealing, and the benefits become even more pronounced.
Basement Insulation Problem Areas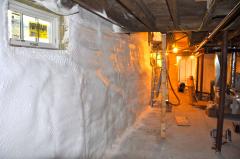 When upgrading the insulation in a basement, today's home performance contractors typically look at three problem areas: the walls, floors, and rim joists. Each of these parts of the basement requires a unique type of insulation and a slightly different approach to installing the insulation. Insulating all three areas properly will result in a drier, more comfortable basement, which will influence comfort levels and indoor air quality throughout the rest of the home.
Anyone who lives in South Central Pennsylvania knows that humidity can be a problem in the area. If you're used to dealing with a humid basement, this is a good sign that air sealing and insulation are needed to put an end to the problem for good.
True Home Comfort with Energy Smart Home Improvement
The team at Energy Smart Home Improvement knows just how important it is to maintain a safe, comfortable, and healthy home environment. A big part of achieving this goal is assessing and improving your under-insulated basement. Once our trained and certified experts have re-insulated your basement, you can expect a reduction in your energy bills, fewer concerns about mold and moisture proliferation, and a more comfortable home throughout. An energy audit to locate basement efficiencies is a great way to get started!
Don't neglect your basement any longer! Call us today at 717.687.2138 or
contact us
to learn more or schedule an appointment!