One of our core philosophies is that there's simply nothing more important than maintaining a safe, healthy home environment for you and your family. More and more Carlisle, Pennsylvanians are working towards leading healthier lifestyles, but what about the quality of the air they breathe while relaxing at home?
If you haven't yet taken a closer look at the indoor air quality (IAQ) of your home, there's no better time than now to get started.
Factors affecting indoor air quality
It's not uncommon to go about the day expecting that the air within your homes is safe to breathe. This being said, there are a number of different factors that can affect indoor air quality, many of which are commonly found in homes in Carlisle, York, Harrisburg, Chambersburg, Lancaster and throughout South Central Pennsylvania. These include (but are not limited to) the following:
Excessive moisture

Elevated humidity levels

Water in basements/Crawlspaces

Mold

Faulty HVAC equipment

Household toxins/chemicals

Signs of poor IAQ
While poor indoor air quality can often manifest itself in ways that are undetectable (like higher-than-safe carbon monoxide levels, for example), there are some warning signs you can look out for. These can include musty, moldy smells, visible mold, visible water buildup and health symptoms such as headache, sore throat, dizziness and fatigue. These symptoms often get played off as mere season allergies, but many times, it's the living environment that is truly to blame. In some cases, air quality issues can exacerbate respiratory problems like asthma and existing allergies.
Energy Smart Home Improvement can help
We place quite a bit of focus on indoor air quality in recent years here at Energy Smart Home Improvement since we know it can truly impact the lives of our customers. Our IAQ experts can diagnose issues occurring within the home and develop a set of recommendations to not just cover up the problem, but fix it entirely. We may recommend solutions like air sealing, insulation removal, or crawlspace encapsulation.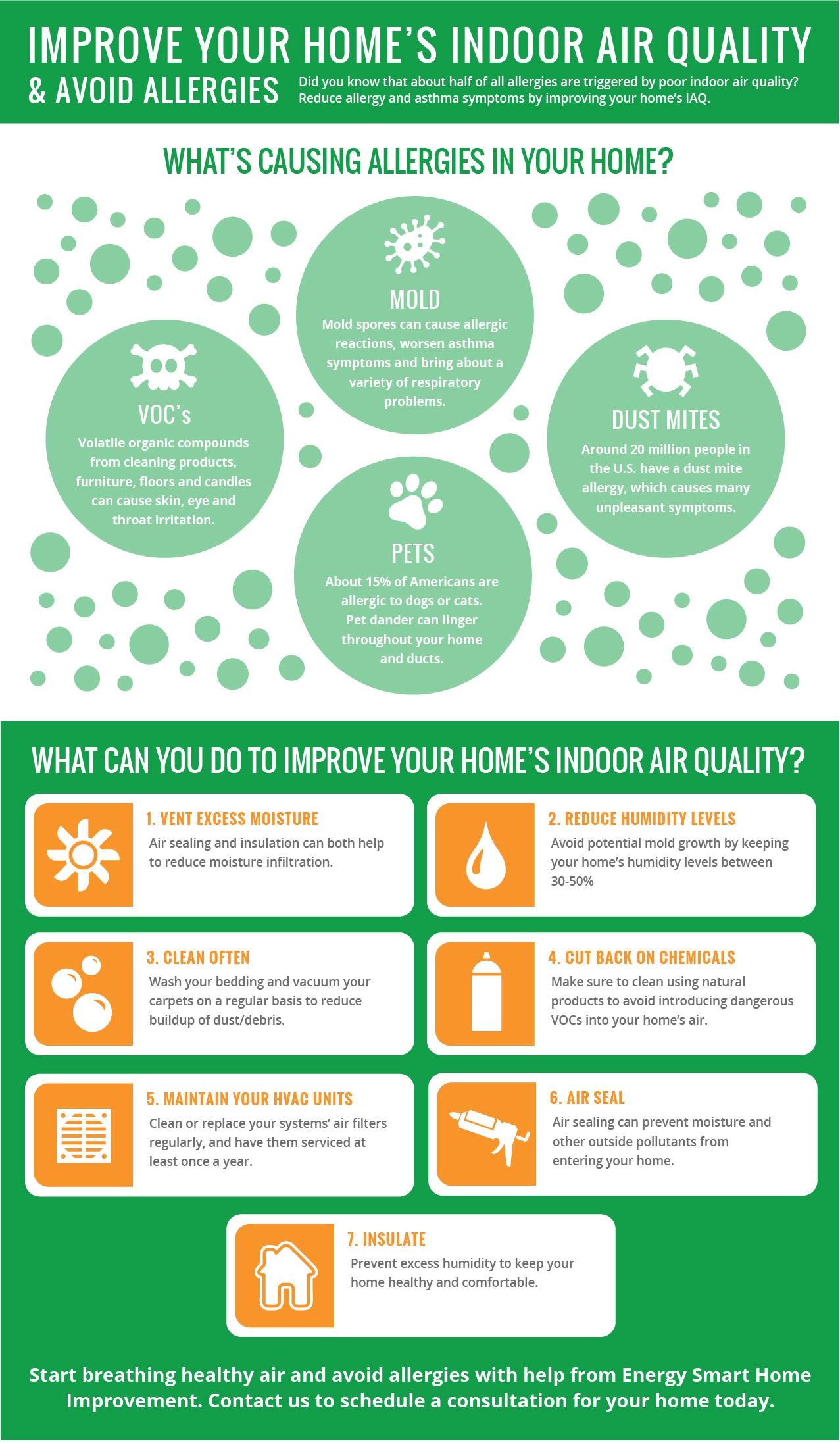 Don't put the health of you or your family at risk! Call us today to book an appointment with an Energy Smart Home Improvement IAQ expert.