For Harrisburg Pennsylvania homeowners who are attempting to enhance home performance and comfort, there are a number of different home upgrades to choose from. Unsurprisingly, the list of valuable upgrades that might benefit a home can be overwhelming, and knowing how to move forward is often easier said than done.
At Energy Smart Home Improvement, we believe that air sealing—combined with high-performance insulation solutions like cellulose insulation—is the most important thing that homeowners can do to get their homes performing at peak efficiency. 
WHY SEAL THE AIR LEAKS IN YOUR HOME?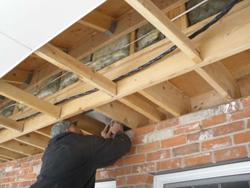 Many people don't realize just how much the home envelope matters when it comes to improving indoor comfort levels and reducing energy bills. A home's building envelope is the barrier that separates the conditioned indoor space and unconditioned spaces outside. When properly sealed and insulated, indoor air stays right where it's supposed to, and outdoor air is unable to infiltrate the home.
Problems can stem from the fact that many homes are littered with tiny cracks and gaps, some of which may be next to impossible to see with the naked eye. Unsurprisingly, this allows unwanted air exchange to occur. This air exchange translates to:
Indoor drafts

Inconsistent temperatures

Contaminated indoor air

High heating and cooling costs

Outside noise infiltration
WHAT ARE THE BENEFITS OF HOME AIR SEALING?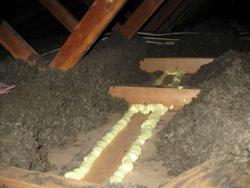 Air sealing is the process of filling the tiny cracks and gaps found within a home. This service is instrumental in allowing you to save money on energy bills and keep your home comfortable, especially if you've experienced drafts during the winter or just can't seem to keep your home cool during the summer months. When air sealing services are combined with spray foam insulation, it's one of the most effective routes to take for a more comfortable, energy efficient home.
At Energy Smart Home Improvement, we combine our building science knowledge and experience with diagnostic tools to pinpoint even the smallest of air holes and seal them up permanently. This is the benefit of hiring a professional home air sealing service near you in Mechanicsburg, Camp Hill, Millersburg, and the greater Carlisle area—peace of mind that each and every hole was found and sealed! 
BENEFITS OF PROFESSIONAL AIR SEALING 
INCREASED HOME COMFORT
Unconditioned air entering living spaces is a leading cause of cold and hot rooms. Air leakage is also often the cause of temperature differences between the first and second floors.
CLEANER INDOOR AIR
Your attic insulation acts as a dirty filter when air is allowed to exchange between living spaces and unconditioned areas above. Air sealing stops this air exchange and can help improve indoor air quality.
GREATER ENERGY SAVINGS
The EPA estimates that between 25% and 30% of your money spent on heating and cooling is lost through leaks in your attic, basement, and other areas.
WHICH AREAS NEED TO BE AIR SEALED?
Air sealing is essential along your home's building envelope and along the attic floor, where conditioned indoor air often seeps into the attic. Another key area that needs air sealing is the rim and band.
The rim and band detail in your home is where the wood framing sits above your foundation. In most houses, it is one of the biggest sources of heat loss and air infiltration. The air entering through this area can also contain high levels of moisture, increasing the likelihood of micro-bacterial growth and mold growth in the basement, undermining the health of the entire home. Even pests like spiders, bugs, and mice can enter your home in this vulnerable area!
Having Energy Smart Home Improvement air seal the rim and band detail using closed-cell spray foam is one of the most cost-effective energy efficiency upgrades you can perform.
WANT TO SEE THE BENEFITS OF AIR SEALING WITH YOUR OWN EYES? CALL US TODAY AT 717.687.2138 OR CONTACT US TO SCHEDULE AN APPOINTMENT!
Are you losing energy out of the tiny holes in your home?
Seal all of them up, once and for all.