At Energy Smart Home Improvement, we know that one of the biggest hurdles faced by today's homeowners who are interested in making valuable home upgrades is being able to pay for them. Though home performance upgrades can do a great deal of good in terms of lowering your energy bills and enhancing home comfort, they can sometimes come along with high upfront costs. This is why we do everything possible to ensure that our customers are getting the most out of the rebates and financial incentives available in South Central Pennsylvania.
It's time to save energy and money. We're here to help.

FirstEnergy Residential Energy Audit & Home Performance Program: Phase III
Energy Smart Home Improvement is happy to announce that Phase III of the FirstEnergy Residential Energy Audit & Home Performance program began on June 1st, 2016. This means that rebate amounts and eligible measures differ from Phase II of the program. Eligible homeowners can save money on new, energy-efficient appliances, water heaters, HVAC equipment and maintenance, including rebates on geothermal heat pumps and solar thermal water heaters.
Visit FirstEnergy's page for more information on Phase III, or call us today at (717) 921-4031.

PPL Electric Utility Company Rebate Programs
Serving 1.4 million customers across 29 counties in PA, PPL Electric plays a major role in maintaining power lines for Pennsylvania homeowners. A conscientious company with a solid track record and strong reputation for supporting the community, PPL offers a number of different rebate options for homeowners who are interested in making valuable home upgrades. Income-eligible residential programs are also available, including a free in-home energy survey.
Visit PPL's rebate page for more information on these and other programs.

Hearth Home Improvement Financing
Hearth helps homeowners make smart financial decisions about their renovations. We show homeowners how to craft an accurate budget for their remodels. When appropriate, we connect homeowners to financing options. View Hearth Home Improvement Financing's site for more information on how they can assist you with financing options.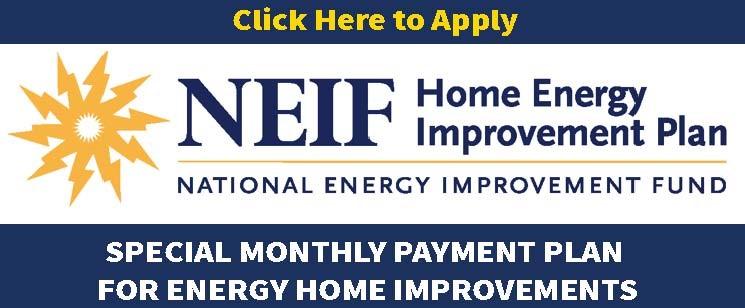 NEIF Home Improvement Plan
Improve your home's comfort and energy efficiency with this fast & simple, low monthly payment option from the National Energy Improvement Fund. The plan's low payments can immediately be offset by energy savings and you have the flexibility to pay off whenever you want.
Visit the National Energy Improvement Fund website to learn more or apply for special financing now!
Call us Today!
If you're ready to make home improvements that will save you a great deal of money over time, upfront costs no longer have to get in the way thanks to our many financing options. We are here to help to get you the savings you deserve.
Give us a call today at 717.258.6574  to learn more and to schedule an appointment!