At Energy Smart Home Improvement, we know that one of the biggest hurdles faced by today's homeowners who are interested in making valuable home upgrades is being able to pay for them. Though home performance upgrades can do a great deal of good in terms of lowering your energy bills and enhancing home comfort, they can sometimes come along with high upfront costs. This is why we do everything possible to ensure that our customers are getting the most out of the rebates and financial incentives available in Carlisle, York, and Harrisburg, Pennsylvania.
It's time to save energy and money. We're here to help.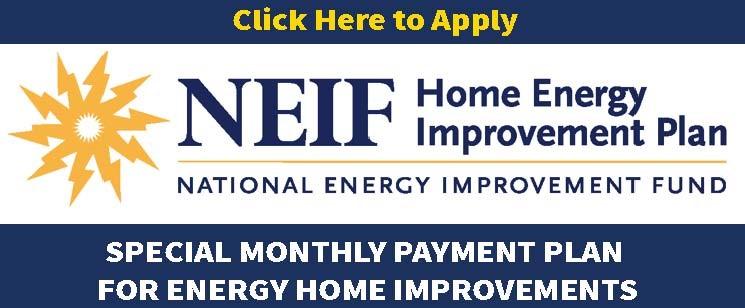 NEIF HOME IMPROVEMENT PLAN
Improve your home's comfort and energy efficiency with this fast & simple, low monthly payment option from the National Energy Improvement Fund. The plan's low payments can immediately be offset by energy savings and you have the flexibility to pay off
whenever you want.
As a NEIF approved contractor, we will ensure that you are getting the home performance upgrades your home requires for lasting energy efficiency and reliable home comfort. Plus, you can spread the cost of your upgrades over long term, affordable monthly payments to maximize your energy savings.
Benefits of Using a NEIF Home Improvement Loan
Finance 100% of your energy improvement

True fixed rate, fixed monthly payment

Terms up to 10 years

No adjustable rate

No home equity required

No points, fees, or closing costs

No penalty for prepayment

Instant credit decision and a paperless process

Fully supported b

y NEIF's Energy Lending Specialists

Only for work performed by NEIF Approved Contractors
Visit the National Energy Improvement Fund website to learn more or apply for special financing now!
CALL US TODAY!
If you're ready to make home improvements that will save you a great deal of money over time, upfront costs no longer have to get in the way thanks to our many financing options. We are here to help to get you the savings you deserve.
GIVE US A CALL TODAY AT 717.833.6270  TO LEARN MORE AND TO SCHEDULE AN APPOINTMENT!
Looking for a payment plan to make energy-saving improvements to your home?
We're here to help, and we have options!