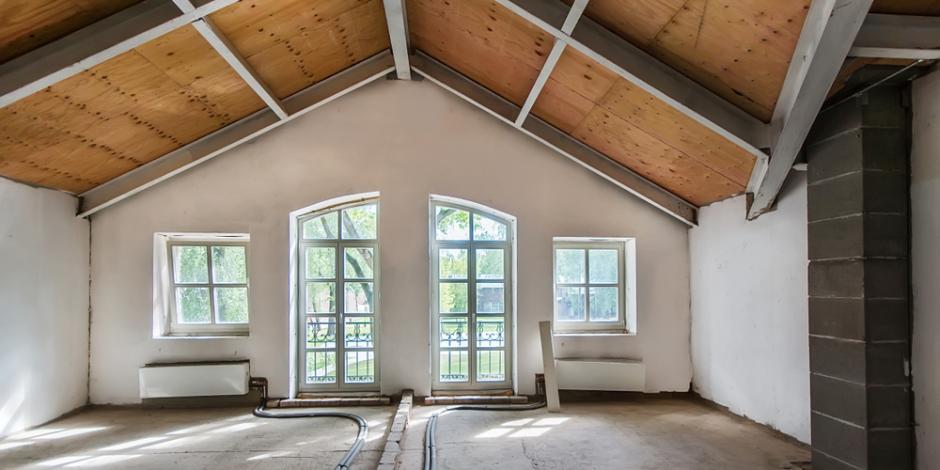 Have you always dreamed of one day converting all that attic area over your head into livable space? Adding a new room or two onto your home can come with a number of benefits, from giving your family a little more space to spread out to actually increasing the value of your home if you ever decide to sell.
If you've chosen this year as the time you're finally going to move forward with an attic renovation project, here are some things to consider that will make your life a lot easier when it comes time for the actual work!
1. Check Local Permits
It might seem tempting to forgo the hassle and headache of pulling a local building permit, but trust us: this isn't a project you want to cut corners with, and you want to keep it above board.
You'll need a detailed plan that's been, at the very least, reviewed by a licensed engineer or architect, and you'll need to make sure that your plans are up to your city or town's building codes. Not having a permit for that work can turn selling a home into a nightmare, so look at the bright side: going through the correct processes will make you double-check all your decisions, and ensure your project will turn out right.
2. Double Check Your Flooring
Yes, your attic floor might be able to support the weight of all your holiday decorations and boxes of seasonal clothes and storage, but not so fast! Is your subfloor in good shape? A structural analysis before work starts could help avoid a huge mess down the road.
3. Wire for Electricity
It's a good idea to hire a licensed electrician to make sure the electrical wiring in your attic will be up to code and safely supply enough electricity to power whatever appliances you might have on your new top floor. 
4. Close Up Any Air Leaks
It will be significantly harder to address home comfort issues once you've already finished the renovation process, so now is the time to make sure your home's thermal boundary is still tight and protective after you've expanded it with the addition of this new floor.
Air sealing helps prevent air movement between the inside and outside of your home. It's one of two very important elements of home comfort (insulation, which we'll cover next, is the other). Without sealing up the tiny cracks and gaps in your home's building shell, you'll struggle to heat and cool your attic. The benefits of air sealing your attic include keeping your energy bills down and creating a comfortable space that people will actually want to spend time in!
Air sealing is usually done with spray foam insulation, and a home energy audit from an expert home performance contractor will use blower door testing, among other things, to identify exactly where air is getting in and out of your home.
5. Insulate
It's very likely that before your home renovation project, your attic fell outside of your home's normal living spaces, and so wasn't completely insulated. Now you'll want to stay comfortable in your attic room or rooms without expensive heating and cooling costs just to keep consistent temperatures in this new part of your home.
Because of a building science principle called "the stack effect," the attic is one of the more vulnerable parts of your home when it comes to controlling the temperature and comfort of your entire home, and is often the main culprit when homeowners complain about high energy bills and inconsistent temperatures throughout their home. That's why it's so important to take this opportunity to properly insulate your attic. 
There are a number of types of attic insulation that can be used in your home, but with our experience renovating attic space and helping homeowners throughout Pennsylvania achieve whole home comfort, we recommend dense pack cellulose as the best insulation for attic wall renovation.
Cellulose attic insulation, installed by Energy Smart, is made out of 86% recycled materials, is insect and mold resistant, and unlike fiberglass insulation, won't lose a significant part of its insulation R-value when it gets cold. Compared to other insulation types it's also affordable, keeping your attic insulation costs down.
6. Install Drywall 
Only once all the other components are finished can you hang drywall on your walls and make decisions about how to finish your ceiling. If your attic ceiling is high enough, you could install a dropped ceiling, or you could hang drywall directly to the rafter beams after you've insulated and air sealed.
Transform Your Attic with Energy Smart Home Improvement
Finding an attic insulation company near you who can ensure that your attic bedroom renovation (or whatever else you may have planned for the new space in your home) is successful is as easy as reaching out to Energy Smart Home Improvement! We can work with you to discuss proper attic ventilation, attic floor insulation, and conduct a thorough home energy audit to ensure that the upgrades you're making won't result in high energy bills and reduced comfort.
Attic conversion renovations aren't the only home improvement upgrade we can handle either! We have plenty of experience with attached garage attic renovation projects, including air sealing your garage and insulating it to help you transform it into a new home addition.
Talk to an expert attic insulation contractor near you about your conversion project. Call 717.258.6574 or contact us today.
Ensure your attic conversion project is a success.
Reach out to Energy Smart Home Improvement today.