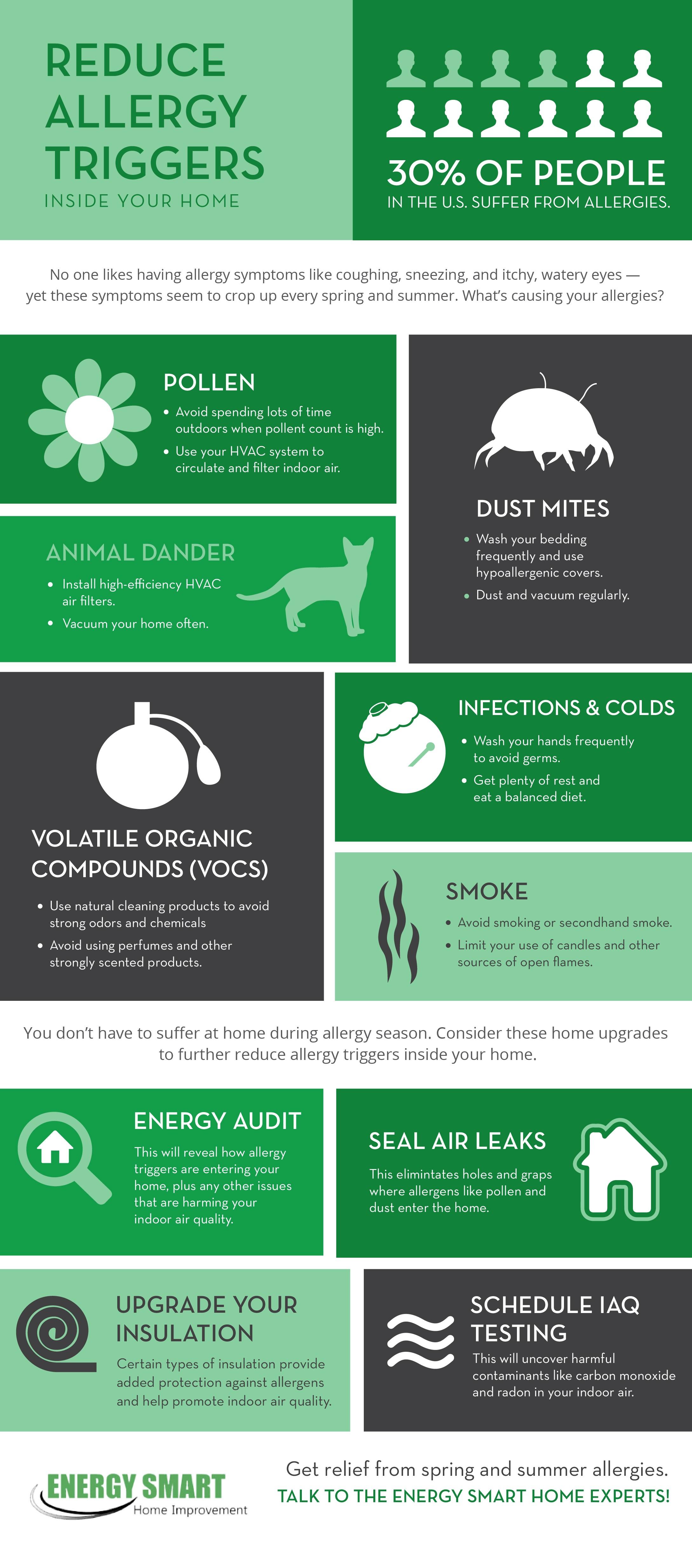 30% of people in the U.S. suffer from allergies
No one likes having allergy symptoms like coughing, sneezing, and itchy, watery eyes — yet these symptoms seem to crop up every spring and summer. What's causing your allergies?
POLLEN
Avoid spending lots of time outdoors when pollent count is high.
Use your HVAC system to circulate and filter indoor air.
ANIMAL DANDER
Install high-efficiency HVAC air filters.
Vacuum your home oen.
DUST MITES
Wash your bedding frequently and use hypoallergenic covers.
Dust and vacuum regularly.
VOLATILE ORGANIC COMPOUNDS (VOCS)
Use natural cleaning products to avoid strong odors and chemicals
Avoid using perfumes and other strongly scented products.
INFECTIONS & COLDS
Wash your hands frequently to avoid germs.
Get plenty of rest and eat a balanced diet.
SMOKE
Avoid smoking or secondhand smoke.
Limit your use of candles and other sources of open flames.
You don't have to suffer at home during allergy season. Consider these home upgrades to further reduce allergy triggers inside your home.
ENERGY AUDIT
This will reveal how allergy triggers are entering your home, plus any other issues that are harming your indoor air quality.
SEAL AIR LEAKS
This elimintates holes and graps where allergens like pollen and dust enter the home.
UPGRADE YOUR INSULATION
Certain types of insulation provide added protection against allergens and help promote indoor air quality.
SCHEDULE IAQ TESTING
This will uncover harmful contaminants like carbon monoxide and radon in your indoor air.
Get relief from spring and summer allergies. TALK TO THE ENERGY SMART HOME EXPERTS!